Colombia nature pure
The focus of our Colombia trip is on feeling the nature, getting in harmony with body, mind and soul. We walk off the beaten tourist track and immerse ourselves into the magic of the natural kingdoms. We have time for ourselves and experience unique moments.
Our travel organizer and guide Sonja Kloss lived in Brazil for 6 months and in Colombia 8 months from the end of August 2021 to Beginning of May 2022 and would like to share with you what she was able to experience herself: "During my 7 months in the Sierra Nevada de Santa Marta in Colombia I felt the magic of nature. The Sierra Nevada de Santa Marta is unique and is called the heart of Mother Earth. Being here inevitably does something to you, these incredible places of power and this primeval nature invite you to get in touch with yourself and above all: to feel."
Arboledas is beautifully embedded in mountainous nature and is an original and natural small village. Cocoa and coffee are produced and local vegetables and fruits are grown. So far, Arboledas has been visited mainly by Colombian tourists. When Sonja Kloss was here in April 2022, they were personally welcomed by the mayor as the first international tourists.
Small groups from 2 persons!
Participants: 2 to 8
Dates upon request!

| | |
| --- | --- |
| 7-8 pax | 1580 € |
| 4-6 pax | 1980 € |
| 2-3 pax | 2280 € |
single room supplement: 200 €
Prices valid for trips before January 1st, 2024
Programm of Colombia nature pure:
Attention: Weather condition may cause deviations in the itinerary.
Day 1: The journey starts at Cucuta airport. We drive immediately from Cucuta to Arboledas on a scenic route, where we are received by the German Jasmin Karl at the Hostal Alma Blanca. Jasmin has been living in Colombia for several years and in Arboledas since March 2022. She is an international ambassador for Arboledas and has been running the Hostal Alma Blanca here since May 2022. Among other things, Jasmin lived for around six months in a Kogi village in the Sierra Nevada de Santa Marta. She will share with us her unique experiences.
Day 2: In Arboledas we have time to arrive and feel the nature. We explore the surroundings on a waterfall tour and a herbal hike, where we get to know the plantas sagradas, the sacred plants.
Day 3: The tour de lacteos takes us to the Barajas family on the outskirts of Arboledas. We watch them producing their milk products and are allowed to lend a hand when milking the cows. The cows live here completely freely and come to the "milking parlor" by themselves every morning. Afterwards there is a small breakfast with the handmade products of the Barajas family. Then we head to the village center of Arboledas for a small tour of the village.
Day 4: Most of the day is at leisure. You have time to explore the area and get to know the original side of Colombia. Later we will learn about the whole process of cocoa production from the fruit to its transport into a chocolate cup. You have the possibility to taste excellent organic chocolate from Arboledas. After sunset there is a cocoa ceremony with campfire.
Day 5: We drive back to Cucuta from Arboledas and take the night bus to Santa Marta.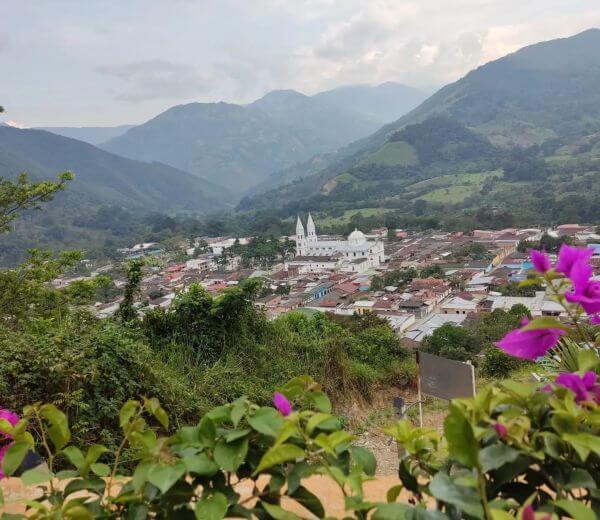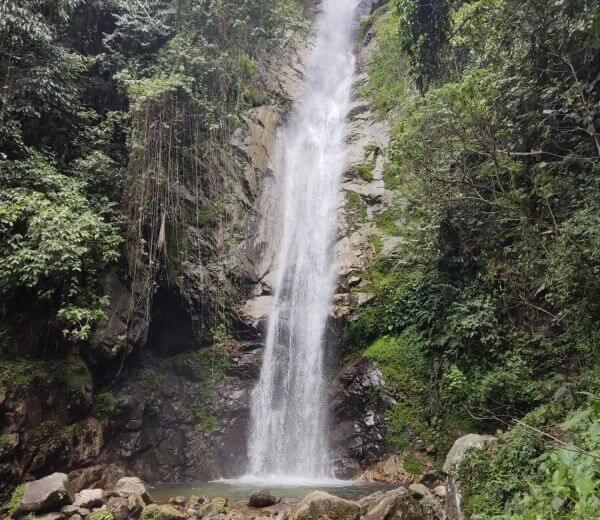 Day 6: Time to relax and enjoy the Caribbean Sea. The beach and harbor promenade has been beautifully designed and invites you to linger, and there are also a few pearls in the historic city center. In the evening there is an optional city tour through Santa Marta.
Day 7: Drive to Gambhira in the Sierra Nevada de Santa Marta, arriving at the Yoga Eco Village Gambhira. Indigenous people once lived in the area of the Eco Village, which can be felt in a magical way. Accommodation is in a typical indigenous cabana. Parrots fly by in the morning, and with a bit of luck, monkeys may also visit. You can directly feel the places of power in nature and experience the fascinating nature of Colombia up close.
Day 8: The Sierra Nevada de Santa Marta is called the heart of Mother Earth by the indigenous people. This is also due to the shape of the mountains, which looks like a heart from a bird's eye view. Here in Gambhira we have the wonderful opportunity to walk in the footsteps of the healing powers of the local indigenous people and to receive a guided tour "Conectando desde el corazón del universo".
Day 9: We continue to Coaba. Coaba is a biological reserve, a sustainability and shelter project founded by German Eberhard Wedler around 30 years ago. It is the perfect place to connect with nature and recharge your batteries. We have time to arrive and get a first guided tour of Coaba.
Day 10: Coaba has it all in one place: nature, plants, history, service and authentic sustainability. Eberhard Wedler wrote a book about medicinal plants from the tropical zone and almost all of these medicinal plants can also be found here in Coaba. We can enjoy a medicinal plant tour including fish feeding.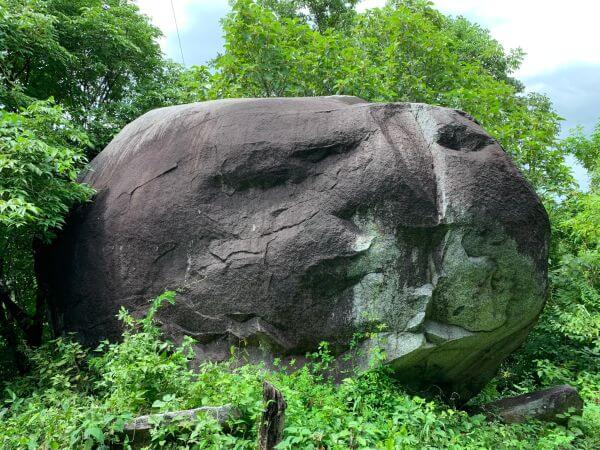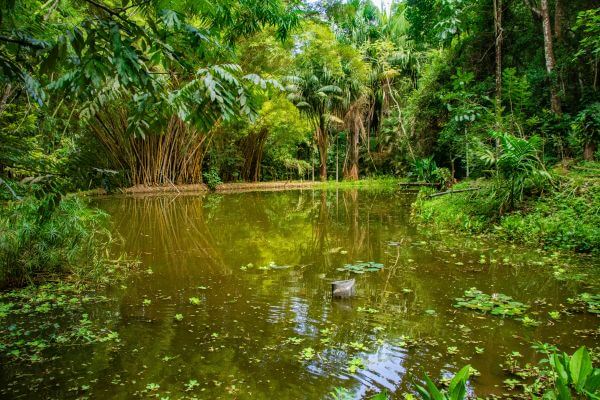 Day 11: This day is at leisure. Optional: massages and ceremonies with medicinal plants.
Day 12: After a hike we dive into the magic of the waterfalls of the Paso del Mango and can take a healing bath. Back at Caoba we let ourselves be enchanted by the production of cocoa. The production process from cocoa to the production of handmade chocolate is explained. A cup of cocoa and a cocoa mask are included.
Day 13: Drive to Cabo Tortuga on the Caribbean Sea. There is a beautiful golden sandy beach with a view of the turtle-like rock formation. The Caribbean is very peaceful here compared to other places. You can swim relaxed and enjoy sunsets. Our Hotel Playa del Ritmo has a special flair without intrusive music and party.
Day 14: A leisure day. We can process the impressions of the past 2 weeks. Optionally, we can practice breathing, body and meditation exercises together on the beach.
Day 15: The journey ends. Optionally, you can stay longer in Cabo Tortuga or continue to Cartagena or Minca, for example. Santa Marta Airport can also be reached quickly.