Quilotoa Loop
The Quilotoa loop is an annular road that extends from the Panamericana into the hinterland of the Cotopaxi region. Along the way are villages with Kichwa-speaking indigenous people, colorful markets, a deep blue crater lake, which is said to have no bottom, and ancient paths that pave the way in the shade of the snow-capped mountains. Due to the isolation of the region centuries old traditions have survived here.
Isinlivi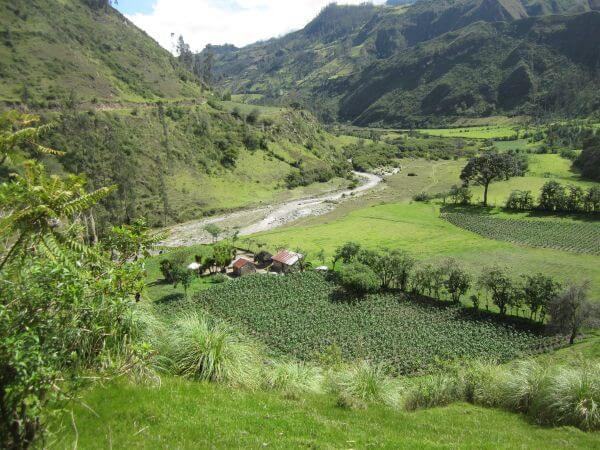 Isinlivi is a nice and wonderfully peaceful place a bit off the main street. In the charming guesthouse Llullu Llama you can spend some wonderful hours or days in the middle of nature. From the spacious and comfortable bungalows you have a wonderful view of the surrounding mountains and valleys. There are also several options for small and medium walks. In just a few minutes you reach the calvary hill. The round trip to Guantualo takes about 4 hours.
The hike from Isinlivi to Chugchilán takes 4 to 6 hours. After descending into a river valley, you walk comfortably beside the river until you have to overcome some 400 meters of altitude in a steep climb. The village Chugchilan is at 3200 m above sea level – the nights can be cold. In the vicinity you can visit a cheese factory.
Quilotoa
From Chugchilan you can reach the town of Quilotoa, which is located next to the crater of the same name and its lake, on an exciting mountain road with many beautiful views. The viewpoint in the village already offers a breathtaking view of the crater. From here you can reach the lake in about half an hour. At the bottom you can rent a canoe and paddle in the lake. The
way uphill is steep and takes longer. Alternatively, you can follow a path that leads to the crater rim around the crater. The whole round takes 5 to 6 hours. In less time, however, 2 viewing platforms can be reached.
Tigua
Another village worth visiting is Tigua. This small community of farmers and painters is known for its colorful paintings of Andean life. The works can be admired in several galleries and can also be bought.
On our trip Ecuador andino you spend 3 days in the region of the Quilotoa Loop.