Guamote
Guamote is a small town just south of Riobamba at about 3000 m above sea level. Here and in the surrounding communities, the majority of the population is of indigenous origin. The inhabitants proudly display their traditions. This is most evident on the Thursday market, which is certainly one of the most authentic and largest in Ecuador.
The market is divided into several sections. At the animal market you can buy horses, donkeys, pigs, cows, sheep, guinea pigs and chickens. Traditional garments and food can be found in other sections. Another section is reserved for potatoes only.
Pension Inti Sisa is part of a remarkable community project, the Inti Sisa Foundation. The income and donations are primarily used for educational projects benefitting the people of Guamote and the surrounding area. These include lessons in English, music of the Andes, computers or sewing classes. A kindergarten is supported and some children are allowed to attend school.
You can visit the kindergarten and the school on the community tour. You also drive to the surrounding settlements, which are located at an altitude of up to 3600 m. Here you can see how the Indians live in their traditional huts, which animals they keep and how they earn their livelihoods. The manufacture of textiles is a significant part of income for many people, and you often find a loom. Sheep's wool is widespread, alpaca wool is a little rarer.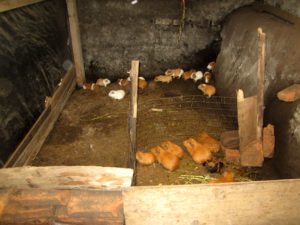 You also learn about the worldview, religion and medical practices in the small villages. Shamans play a significant role in the communities.
In the fields you can see which foods are grown. You will probably meet people who plow, sow or harvest their fields.
On our trip Ecuador andino you will do the community tour and also visit the Thursday market.