Cartagena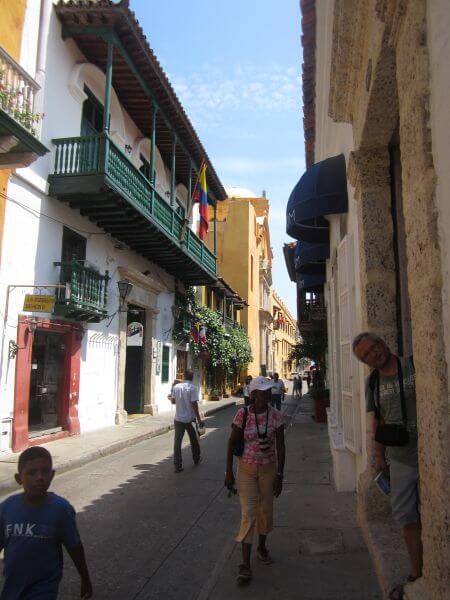 Cartagena de Indias is the pearl of the Caribbean coast and for many the most beautiful city in Colombia. The city is the fourth largest in Colombia with around 1 million inhabitants. A 13 km long city wall surrounds the historic old town, which is a UNESCO World Heritage Site. Within the walls, a labyrinth of lanes and streets leads to impressive squares, churches, monasteries and colonial buildings.
Cartagena was founded in 1533 by Pedro de Heredia and quickly grew into a rich city. Soon it became the most important Spanish port on the Caribbean coast and the most important gateway to South America. Several times the city was besieged by pirates, including Sir Francis Drake. After he had plundered the city, the city wall and several fortifications were built.
Perhaps the most impressive structure in Cartagena is the Jesuit monastery of San Pedro Claver. It is named after the Spanish-born monk Pedro Claver, who lived and died here in the 17th century. Because of his commitment to the enslaved black population, Claver is also called the "Apostle of the Blacks". The monastery has an interesting museum.
The Inquisition Palace (Palacio de la Inquisición) is another remarkable and beautiful colonial building. Since 1610 it was the seat of the criminal tribunal of the Inquisition. Until independence in 1821, about 800 people were sentenced to death and executed there. Today a museum is set up in the palace. In addition to torture instruments, one can admire historical objects from the colonial era.
Outside the center, Cartagena is a busy and partly chaotic city. On the Bocagrande peninsula – Cartagenas Miama Beach – south of the city, classy hotels, trendy cafés and luxury condos line the beach.
Just outside the city center is the fortress Castillo de San Felipe de Barajas, the largest fortress the Spaniards ever built in their colonies. It proved to be invincible and could never be taken. An extensive tunnel system should enable a quick evacuation. Parts of the tunnels can be visited.