Puerto Lopez
The small town of Puerto Lopez is located on the Pacific coast of Ecuador, north of Guayaquil. The town was once a tranquil fishing village, but today attracts quite a few tourists due to the long, wide beach and the proximity to the Machalilla National Park. Here you will find a very good selection of accommodation, restaurants and cafés, which are mostly located directly on the beach. You can relax here and insert an exciting day trip from time to time. Therefore, Puerto Lopez makes a worthy end to your journey!
From mid-June to September, humpback whales pass the coast of Puerto Lopez. Especially in July and August, the whale sightings are almost guaranteed. In June and September, the encounters are often short and from a distance. Whale watching tours are offered during this time.
Machalilla
Close to Puerto Lopez is the Machalilla National Park. This is the only national park in the coastal region of Ecuador. It consists of 50 km of coastline, about 400 km2 of tropical forest and 200 km2 of ocean. On the sea surface are some islands, of which the Isla de la Plata is the most important.
The Isla de la Plata is also called the "Galapagos of the little man" – because here live many of the animals that populate the Galapagos Islands. The island is 40 km off the coast of Ecuador and can be reached on a day trip. The trip offers the opportunity for snorkeling and a walk on the island. In the whale season, day trips to Isla de la Plata are combined with whale watching.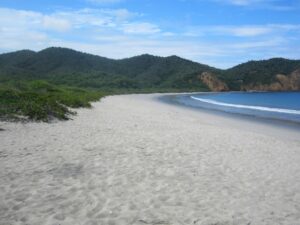 There is also a lot to discover in the mainland area of the national park. The beach of Los Frailes is considered the most beautiful and spectacular in Ecuador. The forest is home to numerous species of birds, snakes, lizards, howler monkeys, game and anteaters. Agua Blanca is a small indigenous settlement that you can visit. There you will find pre-Columbian art, and you can hike in the surrounding forest.
You can choose a stay in Puerto Lopez on both trips Ecuador andino and Best of Ecuador.