Ecuador
The name of the country gets is derived from its location on the equator,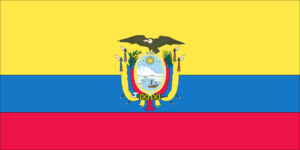 which passes slightly north of the capital Quito. With an area of about 257,000 square kilometers, Ecuador is smaller than its neighbors in South America, but about three times as large as Austria. Of the 16 million people, more than a quarter are indigenous and about half are mestizos.
Geography
Ecuador is located on the Pacific coast and is geographically one of the most diverse countries in the world. Three parts of the country can be distinguished:
The Sierra consists of the two mountain ranges Cordillera Occidental and Cordillera Oriental, which enclose a densely populated highland. Several volcanoes reach more than 5000 m, the highest mountain is the Chimborazo with 6273 m altitude. The highlands are the most densely populated part of the country with several cities. The populated areas are mostly at 2500 to 3000 m above sea level.
The Amazon lowland of Ecuador in the east is called the Oriente. There are only a few smaller towns here. The rainforest is home to several indigenous groups. In Yasuni National Park and the Cuyabeno Nature Reserve, large parts of the rainforest are protected.
The Costa is the part of the country along the Pacific coast. The delta of the Rio Guaya forms a great natural harbor. Here lies the largest city of Ecuador, Guayaquil (about 3 million inhabitants). In the northern part of the Costa lives a considerable minority of Afro-Ecuadorians.
The Galapagos Islands are located about 1,000 km off the coast. The 13 larger and numerous small islands occupy an area of about 8000 km2, of which more than half account for the island of Isabela. About 97% of the area is under strict conservation, on the rest of the country live about 30,000 people.
Tourism
The mentioned diversity of landscapes, the great biodiversity, the cultural treasures and ethnic diversity make Ecuador a fascinating travel destination – in a small scale South America, so to speak. The tourist infrastructure is well developed: there are many beautiful hotels, the roads are well developed in most parts of the country and restaurants can be found almost everywhere. The security situation is also satisfactory in most of the country.